If you've bought an NFT and it doesn't show up correctly, it's easy to think you've lost your NFT. However, as long as your NFT shows up on your profile, it's still in your wallet. NFTs work by pointing to a piece of media (e.g. an image, video or audio file) so when the artwork doesn't show up, the connection between the artwork and the NFT broke down.
If you can't see the artwork associated with your NFT on Rarible, you can usually fix it with one or two clicks.
First: Log in with the right wallet
If your NFT is not showing up on your profile at all, you might be connected to Rarible with a different wallet. This means that the NFT you own on one Rarible account will not show up on another.
In order to discover if this is the case, view your active browser extensions.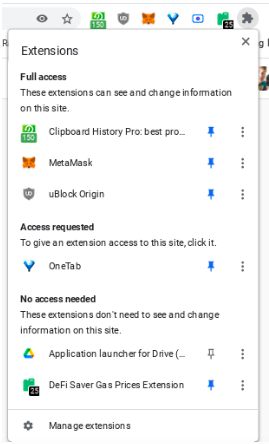 For future ease of eliminating this issue, you can pin your extensions that are wallets so that you are able to identify which wallet you are using.
You can identify which wallet is connected by looking at their connection and active statuses.
For example, the image below shows that the top wallet is not connected and the wallet below it is active. If the top wallet holds the NFT you want to view, it would not show up because you connected with a different wallet.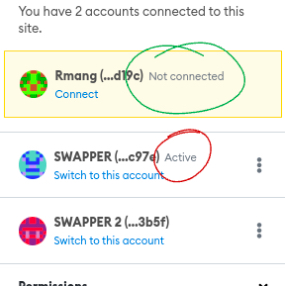 You can switch to the wallet that you would like to connect to by clicking on the three vertical dots on the right-hand side of the current, connected wallet and then selecting "disconnect." Once you have done this, re-connect your wallet to Rarible by clicking on the wallet that you would like to log in to. Your NFT should now appear on your account as you will be logged in to the correct account that stores your NFT.
If you know you're connected with the correct wallet and see the NFT on your profile but not the associated artwork, you can try the following methods. First, navigate to your profile and find your NFT.
Option 1:
Click on the "Refresh" button that is displayed where your NFT should be. Your NFT should show once you click on this button. If it doesn't, try the following option.
Option 2:
Click on the three dots on the bottom right-hand side of your NFT (next to the NFT's title).
2. Click on "Refresh Metadata."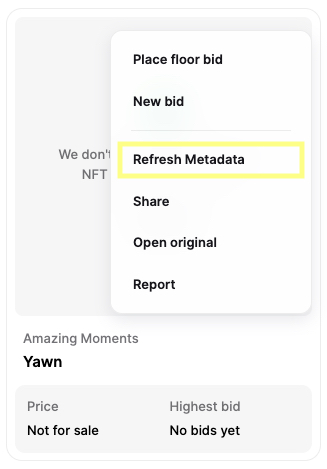 After waiting a few minutes, refresh Rarible and the artwork should appear.
If your NFT still doesn't appear, please contact our Support Team via this e-mail address: support@rarible.com