You may be wanting to verify your collection in order to gain more authenticity, appear higher-up on our explore page and possibly one day even show up on Rarible's leader board!
If you are unsure how to gain a yellow badge to attempt to reach these goals, continue on reading this article in order to learn how to do so and to understand what the requirements are.
What are the requirements that my collection needs to meet in order to attain verification?
A profile picture (it cannot be NSFW)
A banner (it cannot be NSFW)
A name (it cannot be NSFW)
A social media/website link
An appropriate number of social media followers
Satisfactory floor amount
Appropriate sales volume
An appropriate number of items in the collection versus the number of holders
No unauthorized items in the collection
Steps to apply for verification for your collection.
1. Go on to the collection that you would like to verify.
2. Click on the three dots above your collection's items and activity. Then click on "Verify
collection."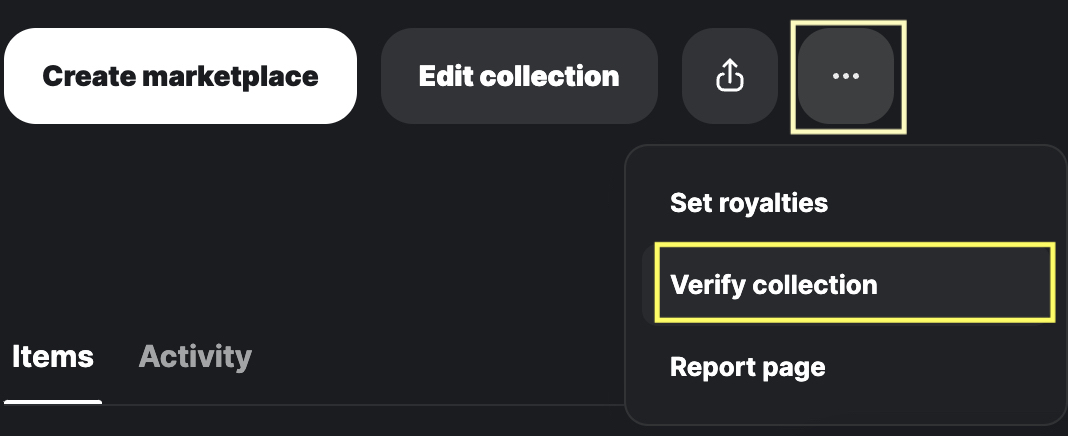 3. Fill in your information on the verification form.
Note: This is what the collection verification form looks like: https://airtable.com/shr8hftDAboJZo4QM
4. Once you have filled in all of the required information, click on the "Submit" button.
Once you have submitted your application to verify your collection, our respective team will review your request. It may take some time for your collection to be attended to due to our team analysing the legitimacy of the collection as well as receiving many verification requests each day.